Picture of the Week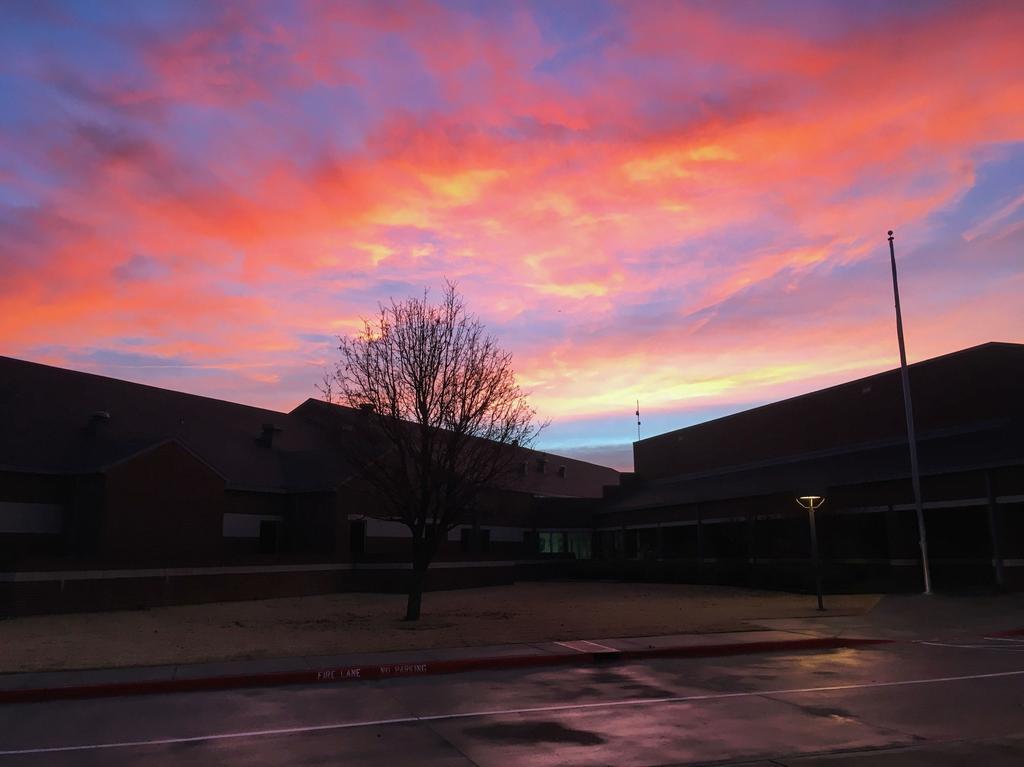 The music teacher at Wilson Elementary, Eric Hanson, snapped this picture on Wednesday of the sky over the school.
 

 

---

Awards & Accolades

---

  

 Spelling Bee Winners

The annual District Spelling Bee was held at CMS West on January 11th. The winning word was 

Harken. Congratulations to the winners and runner up!

 

Srijita Kommaraju, 5th GR. Denton Creek (Runner Up)

Priya Marella, 8th GR. CMS-North (Winner #2)

Raj Papineni, 7th GR, CMS-East (Winner #1)

 

Priya and Raj will advance to the Dallas County Bee on Thursday,

---

 January is School Board Recognition Month

January 2017 is School Board Recognition Month--a great time to focus on the crucial role our 

CISD Trustees play in the community and in our schools. Learn more about this All-Star Team by visiting our Board of Trustees website, and take a moment to th

ank a trustee.

Anthony Hill, President, Place 3

Tracy Fisher, Vice President, Place 7

Judy Barbo, Secretary, Place 6

Leigh Walker, Place 1

Jill Popelka, Place 2

Thom Hulme, Place 4

Amy Dungan, Place 5

---

Cheez-It Recipe Contest Winner-

Chef Helen

 

Chef Helen Duran placed 1st in the Cheez-It Recipe Contest   for her Grilled Cheez-It Dippers. She will be featured in three magazines: SN Magazine, TASN (TX SNA pub) and Messenger.

 

 

 

New Tech Tour Dates

Please join us for our 8th grade Parent Tours.

February 7th, 1-3PM

February 9th, 9-11PM

 

 

 

---

Coppell High School to Host WGI's

Dallas Regional Winter Guard Contest

Coppell High School will host Winter Guard International

'

s (WGI) Dallas Regional competition on 

February 18, 2017. Over 40 high school winter guard organizations from 

Texas to Mississippi will 

perform, including Coppell

'

s own varsity color guard team. 

 

Winter Guard is an indoor pageantry activity that involves an array of equipm

ent, movement, and skill.

Flags, rifles, sabres and other props are utilized to bring music and themes

to life while displaying 

technique, creativity, and expression. Competition is separated into six 

classes based on the complexity 

of the program and if the color guard is affiliated with a school (scholasti

c) or not (independent).

 

Tickets are $12 for the preliminary competition, and $15 for finals. A 

$24 combo prelims/finals ticket is 

also available at the box office on the day of the event. For more ticket an

d schedule information for this 

and all WGI events, please visit www.wgi.org.

 

---

Information

---

District offices and campuses will be closed Monday, January 16, for Martin Luther King Jr. Day.

 

 

We will resume normal business hours on Tuesday, January 17. 

 

---

Stay up to date on the new Middle School, 9th Grade Center and all the construction updates.

CISD Job Opportunities


Are you looking to join an amazing team of people who have a great work environment located in your community?  Coppell ISD is looking for talented individuals to join our team.  Check out the available job opportunities in CISD here!



| | | |
| --- | --- | --- |
| Toyota of Dallas awards Coppell ISD with their Highest Honor. As a respected educator, Toyota of Dallas would like to honor you with Employee Pricing. During Toyotathon, just schedule a test-drive and you can purchase a new Toyota for what Toyota of Dallas employees pay. Plus, Toyota Care - 24months/24,000 miles of free basic maintenance. Call or email Mitch Bartz at mbartz@vtaig.com for your VIP appointment. www.toyota-dallas.com | Baylor Family Medicine at Coppell is pleased to provide the families of the Coppell and surrounding communities with comprehensive, quality health care in a comforting environment. Baylor Family Medicine at Coppell provides a full range of health services to patients of all ages.  We assist our patients in managing chronic medical concerns such as diabetes, hypertension, depression, and cholesterol. Our physicians on  staff believe in the importance of preventive care as a means of maintaining good health and quality of life.  | |
Coppell ISD | 200 S Denton Tap Road, Coppell, TX 75019 | Tel: 214 496 6000 | communications@coppellisd.com