Reminder About TONIGHT'S CISD Community Tailgate
Coppell ISD is looking forward to welcoming everyone to the community to the Community Tailgate tonight. Reminder: Your CISD ID badge is good for two free entries to the game (yourself and a guest). Please review the updated Security Guidelines for Buddy Echols Field prior to attending the game here.

This game will be a blackout game, so wear
your black CISD gear.
---
Employee Goals Due in Strive by Sept. 28
CISD requires that all employees set professional goals and participate in a summative annual evaluation. CISD uses the Eduphoria STRIVE software to track the employee goals and the summative annual evaluation. Each year supervisors are required to meet with employees to discuss and approve professional goals, discuss the progress of goals mid-year, complete the annual summative appraisal document and conduct an annual summative evaluation conference with employees. Teachers will participate in the state adopted Texas Teacher Evaluation and Support System (T-TESS). Principals and Assistant Principals will participate in the Texas Principal Evaluation Support System (T-PESS).
All employees will develop no less than two professional goals that will be entered into Eduphoria STRIVE.
Personal Goal

PLC / Campus / Grade Level / Department Goal (collaborative or group goal)
Employee Goals should be entered in Eduphoria Strive by Sept. 28. Goals may be modified or adjusted throughout the year as needed in collaboration with the supervisor and employee.
---
CISD Thanks First Responders
Sept. 11 was Texas First Responders Appreciation Day, and September is designated as First Responders Appreciation Month. The district is expressing its appreciation to its School Resource Officers and Deputies via the CISD website and social media.

Coppell High School also hosted a luncheon on Sept. 11 to show their appreciation for Coppell First Responders, including Police Officers, Firefighters and others.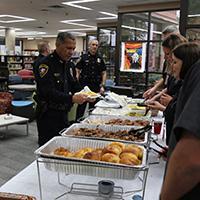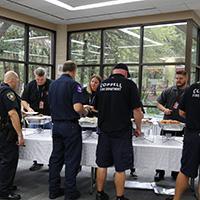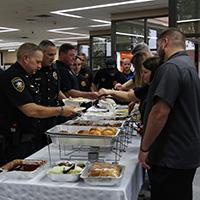 ---
Reminder: Review 2018-2019 Employee Handbook by TODAY
TODAY is the deadline to review and sign the employee handbook in Talent Ed Records! If you are a new employee and signed the employee handbook upon hire, please review the newly updated handbook for 2018-19 and digitally sign the form. Contact Kelly Mires, Executive Director of Human Resources, or Jennifer Villines, Director of Student and Staff Services, if you have questions about a policy or procedure in the employee handbook.
---
CISD Staff Flu Clinic Information
Old Town Family Practice will again offer flu vaccine clinics for Coppell ISD employees beginning Sept. 24.
CLINIC DETAILS:
These clinics are for CISD employees only.

Time/date/location – refer to the schedule below. Choose any location and notify the contact person of your intent to attend a clinic.
WHAT TO BRING TO THE CLINIC:
Copy of your insurance card, front and back (TRS ActiveCare and Dr. Swaldi's patients)

Copy of your driver's license

Completed

VIS form

. Print the signature page, complete and sign.

Completed 2018 CISD Flu Shot Insurance Form (obtained through the contact person listed below - no copies accepted). Click

here

for an example.
COST:
For Aetna ActiveCare HD-1 or Aetna ActiveCare 2 – 100% of the cost for the flu vaccine is covered. Old Town Family Practice (OTFP) is an in-network provider.
(OTFP is not an in-network provider for Aetna ActiveCare Select. If you are covered under Aetna ActiveCare Select and choose to use the CISD vaccine clinic, you will need to pay at the time of the clinic. Aetna ActiveCare Select no longer provides coverage for using out-of-network providers.)
For established patients of Dr. Swaldi: No payment is necessary on the day of the vaccine clinic. Dr. Swaldi's office will file through your insurance and bill you the difference. There is NO copay!

For those with other or no insurance, please pay with cash or check. Injection cost is $40. Check can be made out to OTFP.
Flu vaccine clinic Dates and Locations:
Sept. 24
DCE, 1:00-1:45 p.m. (Contact Jeannie Tierney)
CMS North, 2:00-2:45 p.m. (Contact Karri Hayford)
VP@C, 3:00-3:45 p.m. (Contact Cheryl Norman)
Sept. 25
CCE, 12:00-12:45 p.m. (Contact Pam Johnson)
Admin Building, 1:00-1:45 p.m. (Contact Carol Snowden)
CHS, 2:00-3:00 p.m. (Contact Beth Dorn)
Sept. 26
Austin, 12:00-12:45 p.m. (Contact Janie Hyslop)
MKB, 1:00-1:45 p.m. (Contact Mary Jones)
CMS East, 2:00-3:00 p.m. (Contact Cindy Beasley)

Sept. 27
TCE, 12:00-12:45 p.m. (Contact Sue Kane)
Lakeside, 1:00-1:45 p.m. (Contact Becki Lander)
NTH@C, 2:00-2:45 p.m. (Contact Cheryl Faulkner)

Sept. 28
CMS West, 12:00-12:45 p.m. (Contact Lacy Morrow)
Lee, 1:00-1:45 p.m. (Contact Ameria Olayan)
VRE, 2:00-2:45 p.m. (Contact Kathleen Valenski)
Oct. 1
Pinkerton, 12:00-12:45 p.m. (Contact Mary Goss)
Brock @ Pinkerton, 12:00-12:45 p.m. (Contact Sandra Fernandez)
Wilson, 1:00-1:45 p.m. (Contact Jill Coss)
CHS9, 2:00-2:45 p.m. (Contact Amy Smith)
Service Center @ CHS9, 2:00-2:45 p.m. (Contact Ginger Rogers or Vicky Cason)

---
Important Benefits Note: Freestanding ERs
Last year, 38% of visits to freestanding emergency rooms were not an emergency, and the costs totaled $45.3 million dollars! It is worth noting:
YOUR

premiums pay claims.

Free standing ER's are very costly to insurance plans and are raising premiums across TRS.

There is a new copay for free standing ER's this year -

$500 copay per visit plus 20% after deductible.

This is on all plans - even the high deductible plan (see below).

TRS Active Care is a self-funded health coverage plan, NOT an insurance policy. This means that the premiums collected must cover the cost of benefits used.
Option for employees: TELADOC - Teladoc Physician Services - Available 24/7/365
https://member.teladoc.com/trsactivecare
Active Care 1-HD: $40 consultation fee (counts toward deductible & out-of-pocket maximum)
Active Care Select: Plan pays 100%
Active Care 2: Plan pays 100%
If it is a true emergency, go to the emergency room.
---
Curriculum Connection:
Celebrate Freedom Week Sept. 17-21 / Constitution Day Sept. 17
The U.S. Department of Education has designated Monday, Sept. 17, as Constitution Day and requires that all local education agencies (LEAs) receiving federal funds must teach about the U.S. Constitution on that day each year. Under Texas Education Code §29.907, Texas public schools, grades 3-12, are required to acknowledge Celebrate Freedom Week (week of Sept. 17 -21) and conduct appropriate instruction concerning the intent, meaning and importance of the Declaration of Independence, the United States Constitution (including the Bill of Rights), the abolitionist movement and women's suffrage. Additionally, this requirement is reflected in our social studies standards. Social studies teachers are highly encouraged to explore the materials associated with these recognition days available under each course in Schoology. These resources will fulfill the requirements of both federal and state laws. In addition, teachers may wish to consult the websites and activities featured on the Celebrate Freedom Week/ Constitution Day page from the Recognition Days Resources in Schoology.
---
People on the Move
CISD welcomes the following recent new hires to the district:
Delorise Foster, ESL Aide at Lee Elementary;

Pauline Gray, Structured Learning Aide at Denton Creek Elementary;

Kristi Howard, Special Education Aid at Lee Elementary;

Kyle Kohler, Transitional Pathways Aide at Coppell High School;

Cynthia Marifosque, Instructional Aide at Denton Creek Elementary;

Christel Reed, Transitional Pathways Aide at Coppell High School; and

Julie Wilson, Receptionist at Coppell High School.
The latest district staff vacancies are listed at coppell.tedk12.com/hire/index.aspx.
---
Did You Know?
Missed something in a previous CISD Informed (external) or Stay in the Know (internal) newsletter? Starting this year, these newsletters are archived at

https://www.coppellisd.com/Page/14431

.

Share Your "Cover Story" T-Shirt Program

CISD would like to recognize those who are sharing their CISD "Cover Stories" with the district and community. Starting this month, the Department of Communications and Community Engagement will identify those who share their CISD story as potential recipients of a red "Cover Story" t-shirt. On average, one individual per week will be identified for a shirt.

Any CISD staff member who meets the following criteria is eligible to be selected:

The "story" must demonstrate living out our CISD Values of Engagement, Great Teaching, Redefining Success and Relationships.

The "story" must be shared on social media channels with Coppell ISD tagged in the post.

CISD compliance courses for employees are now available in Schoology. These courses are required by law and must be completed each school year. The courses have different due dates with the first needing to be completed no later than Sept. 30th. To access a course, visit

http://schoology.coppellisd.com

, click on Courses, join and enter "MWPM8-MMZ5R." Contact

Jennifer Villines

, if you have any questions.

This year, educators and staff will be granted 1.5 hours of flex credit for the compliance trainings. Your administrators will work with entering this for the entire staff once everyone has completed the required trainings.
---
GEM and Super Teacher Nominations
Know a Super Teacher or an employee who should be among GEM (Great Educators Matters)? If so, please nominate these dedicated individuals by visiting the Staff and Student Recognition site.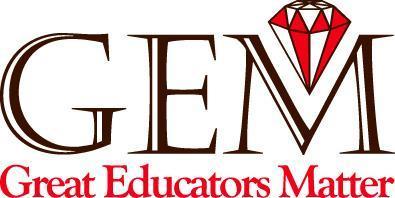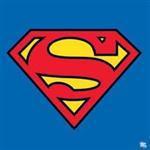 ---