Gingerbread Contest Entries
We asked and you entered! The creative talents and competitive spirit of our Coppell ISD staff family was on display, with 25 entries from 15 campuses, 9 departments and 1 Law Firm (Abernathy, Roeder, Boyd & Hullett designed a house, but will not be judged) participating in CISD's new holiday tradition — the employee Gingerbread House Competition.
Winners:
1st Place - Cottonwood Creek Elementary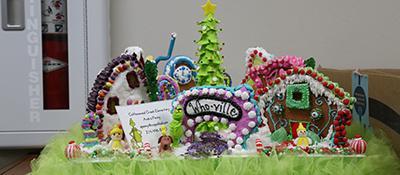 2nd Place - Human Resources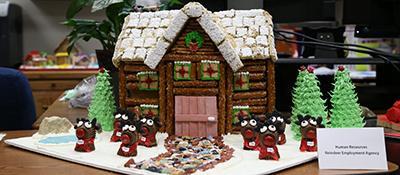 3rd Place - CMS North Science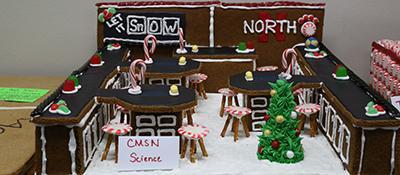 All entries must be picked up by Friday, Dec. 21 at noon. If your entry is not picked up it will be donated to a local retirement community to spread holiday cheer.
---
Congratulations
GEMs, Super Teachers and TOYs
Congratulations to CISD's recently announced Great Educators who Matter (GEM), Super Teachers and campus Teachers of the Year (TOY). GEMs will be recognized in a special ceremony before the Dec. 17 Board Meeting, which starts at 5:30 p.m. Super Teachers were notified Dec. 12. Campus TOYs were announced over the past two weeks during school assemblies, school staff meetings and other events.
GEMs
Austin Elementary: Music Teacher David Barnette, PE Teacher Gay Dobecka, Art Teacher Lisa Ricciardelli and Instructional Coach Lauren Holcombe; Cottonwood Creek Elementary: PE Teacher Tammy Gilstrap and Art Teacher Sharon Chen; Denton Creek Elementary: Counselor Mindy Lindquist and Kindergarten Teacher Katherine Broadhurst; Lee Elementary: Fifth Grade Designer Samira Khan and Practical Academics Paraprofessional Rikki Mundhada; Mockingbird Elementary: Campus Secretary Beth Kiselak; Pinkerton Elementary: Fourth Grade Teachers Kori Haverstick and Amanda Sweeney; Town Center Elementary: Fifth Grade Teacher Kate Seifert and Third Grade Teacher Julia Baird; Valley Ranch Elementary: First Grade Teacher Brooke Young and Speech Language Pathologist Christine Rich; Wilson Elementary: Special Education Teacher Beth Brandenburg, GTI Specialist Carol Koslowski and PE Teacher Lori Moore; CMS North: Assistant Principal Jamie Lakey, Theatre Teacher Brittany Reese and Social Studies Teacher Angela Geiger; CMS West: Cafeteria Manager Sandra Benton, and Social Studies Teachers Shelby Otway and John Smetzer; CHS9: Health Science Teacher Bill Borowski, Science Teacher Cathy Douglas and Art Teacher Elsa Reynolds; CHS: Art Teacher Michelle Hauske; Special Education Teacher Linda Jurca; Career and Technology Teacher Bruce and Science Teacher Rebecca Wheatley; New Tech High @ Coppell: Cafeteria/Child Nutrition Worker Denise McWherter; and CISD Curriculum Department: Administrative Assistants Marnie Wallen and Shelli Orjada.
Super Teachers



Lee Elementary: Green House Designer Team of Taylor Osborn, Aisha Khan, Mariah Wallace, Kylie Radka, Corissa Lamb, Cindy Jacob and Stephanie Deskin; CMS North Sixth Grade Social Studies Teachers Duane Masengill, Garrett Barley and Chip Bloecher; and CHS Theatre Teacher Karen Ruth.
TOYs



Coppell High School: Special Education Teacher Melissa Murray; CHS9: Science Teacher Cathy Douglas; New Tech High @ Coppell: Social Studies Teacher Brian Hussey; CMS East: Special Education Debra Nickell; CMS North: English Teacher Brooke Horne; CMS West: Social Studies Teacher Shelby Otway; Austin Elementary: Second Grade Teacher Natalie Harvey; Cottonwood Creek Elementary: Fourth Grade Teacher Meghan Tidwell; Denton Creek Elementary: Music Teacher Angela Knipe; Lakeside Elementary: Second Grade Teacher Kelly Fischer; Richard J. Lee Elementary: Fifth Grade Designer Samira Khan; Mockingbird Elementary: Special Education Teacher Mary Johnson; Pinkerton Elementary: ESL/Bilingual Teacher Narda Holguin; Town Center Elementary: Kindergarten Teacher Courtney Rice; Valley Ranch Elementary: First Grade Teacher Paige Koester; and Wilson Elementary: First Grade/Bilingual Teacher Raquel Cantu.
---
CISD Cover Story
Coppell ISD has recently adopted four Core Values which are the heart of our district. These values are Relationships, Great Teaching, Engagement and Redefining Success. At the beginning of the year, we challenged our teachers to share their stories on social media to show how these values come to life inside their classrooms. Not only are these teachers, who have received a "I am a CISD Cover Story" shirt, embody these values but they have in fact become the face, the Cover Story, of our district through our #CISDOurStory, #CISDCoverStory campaign.
Thank you to the following teachers who continuously rise and shine in and out of the classroom. We are honored you represent our Core Values with great commitment.
Cindy Bladl, Lakeside Elementary, Great Teaching
Raquel Cantu, Wilson Elementary, Great Teaching
Malachi Ewbank, Cottonwood Creek, Relationships
Sarah Grover, CMS East, Great Teaching
Josh Howard, CHS9, Relationships
Sabrina Khan, Mockingbird, Great Teaching
Catherine Kim, Town Center, Relationships
Kristin Petrunin, NTH@C, Engagement
Wendy Pray, Lee Elem., Relationships/Redefining Success
Catherine Schaefer, CMS West, Redefining Success
Lauren Shepherd, Denton Creek, Relationships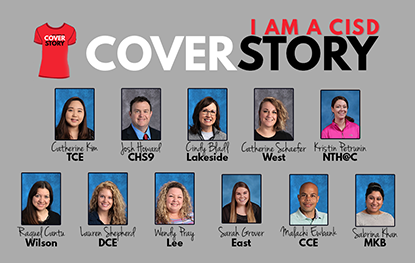 HOW WILL YOU BE A CISD COVER STORY?
---

Update
The CISD Board of Trustees held its third Board Workshop on boundary realignment Dec. 10. Trustees received an update on the elementary school realignment proposed plan. CISD officials also presented an updated proposed Middle School Plan, B3, based on feedback from the Nov. 12 Board Workshop. CISD also shared its recommendation to the Board, which is Elementary Plan A2 and Middle School Plan B3. CISD officials shared that current fourth and seventh graders would be allowed to finish their fifth grade and eighth grade years, if they so choose, at their current school for the 2019-2020 school year. Broadcast video of the Board Workshop, including the scenarios and presentation shared, is available at www.coppellisd.com/realignment. The CISD Public Forum on Boundary Realignment will be held on Thursday, January 10, 2019, in the CHS9 Auditorium starting at 6:30 p.m. The district also will host a Boundary Realignment Facebook Live on January 16, 2019, at 6:30 p.m. The Board will consider and adopt the final Boundary Realignment Model at its February 25, 2019, meeting.
---
Campus Strategic Design Audits Reminder
Phase II of CISD's Strategic Design effort is to understand, at both a campus and district level, how the district is living out our Core Values every day through a Core Values Audit. While these Audits are open to any stakeholder for each campus, we strongly encourage you only complete the survey for those campuses where you have frequent interactions and/or currently work. We will have the Audit open through at least December 31, 2018. The link to the Audit is available at www.coppellisd.com/corevaluesaudit. If you have any questions about the Core Values Audit, or any other questions about Phase II of our Strategic Design effort, please don't hesitate to contact Tammy Taylor, our district internal facilitator, at ttaylor@coppellisd.com.
---
Curriculum Connection
---
---
Tips to Manage Holiday Stress
from CISD Benefits Office
The holiday season often brings unwelcome guests: stress and depression! The holidays present an array of demands such as parties, shopping, baking, cleaning and entertaining, just to name a few.With some practical tips, you can minimize the stress that accompanies the holidays.
Acknowledge your feelings. If someone close to you has recently passed away or you can't be with loved ones, realize that it's normal to feel sadness and grief. It's OK to take time to cry or express your feelings. You can't force yourself to be happy just because it's the holiday season.

Reach out. If you feel lonely or isolated, seek out help. Volunteering your time to help others is also a good way to lift your spirits and broaden your friendships.

Be realistic. The holidays don't have to be perfect. As families change and grow, traditions often change as well. Choose a few to hold on to and be open to creating new ones.

Set aside differences. Try to accept family members and friends as they are - chances are they are feeling the stress of the holiday season as well.

Stick to a budget. Before you go gift and food shopping, decide how much money you can afford to spend and then stick to your budget.

Plan ahead. Set aside specific days for shopping, baking, visiting friends/family and other activities.

Don't abandon healthy habits. Don't let the holidays become a free-for-all. Stick with your workout plan. Get plenty of rest. When we overindulge, it adds to our stress and guilt.

Take a breather. Make some time for yourself. Spending just 15 minutes alone, without distractions, may refresh you enough to handle everything you need to do.

Ask for help. Get your family involved in helping if you feel overwhelmed or stressed out. Even younger children can help clean, decorate and prepare for guests.
The holidays do not need to be perfect to be successful and enjoyable!
The Coppell ISD Employee Assistance Program (EAP) offers many benefits that are both free and completely confidential. You can receive up to 5 free counseling sessions for you and/or your immediate family members per year (you do not need to have a medical plan through Coppell ISD).
EAP - 1-888-319-7819/User name: metlifeeap/Password: eap
Click here for the Coppell ISD EAP brochure.
Please enjoy your time off - you deserve it!
---
Buy $20 Shirt to Support District GO RED Heart Challenge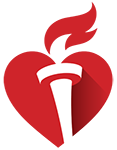 Thanks to everyone for participating in the GO RED District Heart Challenge and for supporting the School Health Advisory Council's (SHAC's) efforts to improve heart health in CISD. There's still time to order your t-shirt for $20, as the deadline is Thursday, Jan. 10. Every employee in the District can GO RED on Friday, Feb. 1st! You'll also be able to enjoy a "Month of Mondays" in February, to wear your GO RED t-shirt with jeans! CLICK HERE to donate $20 online to order your shirt or text "DHCCOPPELL" to 41444 to receive a link via text message to donate.
---
Did you Know?
Several new companies and organizations have been added to CISD's Employee Discount Program. For the latest discounts and offers, including holiday specific discounts, visit www.coppellisd.com/Page/1390.
---
People on the Move
CISD welcomes the following recent new hire to the district:
Andi McDaniel, Transitional Pathways Aide at CHS.
The latest district staff vacancies are listed at coppell.tedk12.com/hire/index.aspx.
---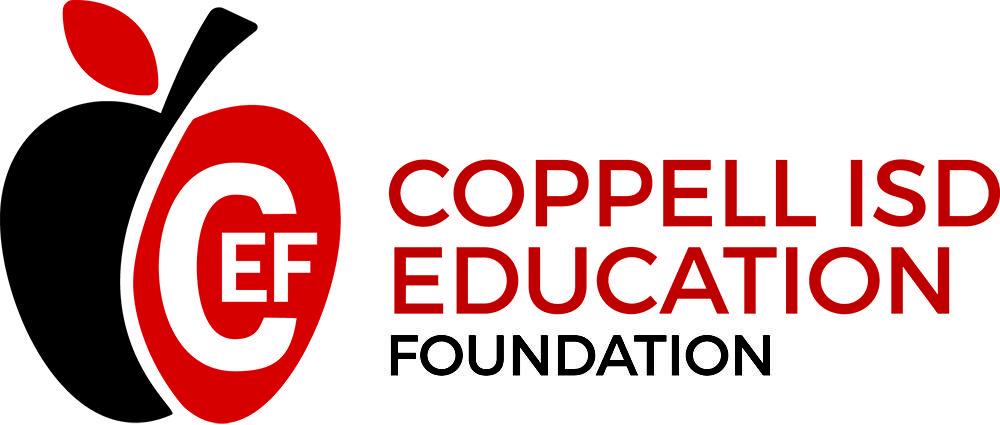 2018-2019 Grant Patrol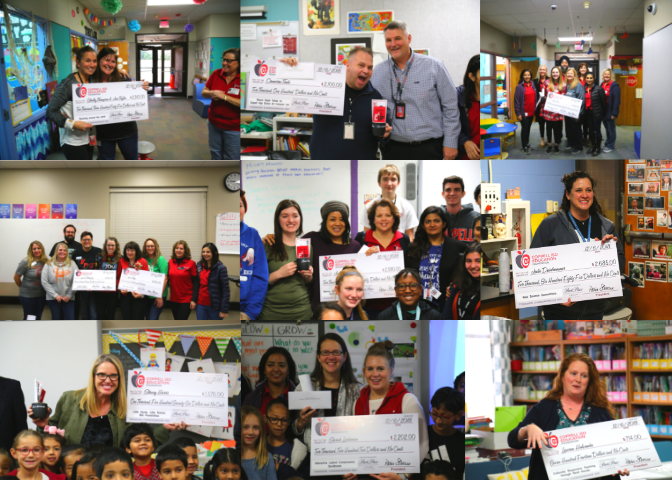 This year's CISD Education Foundation (CEF) "Grant Patrol" took place Dec. 6, when the CEF Board visited 16 campuses giving out 28 grants totaling more than $48,854. These volunteers who show up at a school wearing their CEF polo shirts, grant recipient decal and a BIG check. Park Place Lexus of Grapevine supplied drivers and cars for the Board members to visit each of the campuses.
This year, of the 51 grants submitted, CEF funded 28. Three grants were funded by additional donors. "Kindergarten puts the E in STEAM" at Cottonwood Creek Elementary for $3,650 was funded by Corgan and L.A. Fuess Partners, "Increasing Social Successes Through Interactive Games" at Coppell High School for $250 was funded by Walsh Gallegos Trevino Russo & Kyle P.C. and "Colored Overlays" at Coppell High School for $46 by an anonymous donor. Information about all the grants awarded for 2018-2019, as well as those from past years, can be found http://coppellisdef.com/grants.
CEF Shirt and Jeans Day
The next CEF shirt and jeans days will be Dec. 18, Jan. 8, and Jan. 22.
Don't forget to tweet a picture of you and your friends with #coppellisdef to be eligible for free Sonic Drinks!