North News - September 11, 2020

North Families,
This week we welcomed some learners back for in-person learning. We've had a smooth transition back and our students are doing a great job adhering to the safety protocols we have in place. Our educators are working diligently to meet the needs of remote and in-person learners and we appreciate your support! We are #villagenorth and we are #CISDstrongertogether!
---
Thank you PTO
Thank you to our wonderful PTO for providing breakfast to our staff last week and sweet treats in the longe today! This was very appreciated by staff. Also, the additional PPE that was purchased by the PTO has arrived. These additional resources are an added layer of support for our staff and students. Again, thank you!
---
Progress Reports Now Available in HAC
Please log into the HAC and check your child's grades. Reach out to your child's teacher if the need additional support. We also have the virtual tutoring hub available additional support. If you child is still learning remotely, please make sure they are accessing the live Zooms or pre-recorded Zooms daily.
---
Commitment Form Process for Second Grading Period
CISD will offer families the option to commit to either in person or distance learning for the second grading period, which begins on Tuesday, Oct. 12. The commitment form process for the second grading period will begin on Monday, Sept. 21 and end on Wednesday, Sept. 30. You will only fill out a form if you are changing your commitment for the second grading period. Be on the lookout for more details soon.
---
North Student Council Interest Meeting
North Student Council will be holding an interest meeting next Thursday, 9/17, at 3:45. All students in grades 6-8 are invited to attend. Meeting will be held via zoom. Please email Ms. Ramos (aramos@coppellisd.com) if you have any questions. This information will also be available on the Coppell Middle School North Student Council website.
---
NWEA Map Testing
CISD will be conducting the Northwest Evaluation Association (NWEA) Measures of Academic Progress (MAP) test Sept. 14 to Oct. 9. This assessment will help measure growth and skill mastery for our Kindergarten-9th grade learners and some 10th grade students. Both in person and distance students in these grades will be taking this test. Read more at go.coppellisd.com/MAPTestingFall20.
---
CurbSide Meal Pick Up
Curbside meal pickup for distance learners will end on Wednesday, Sept. 9. Distance learners may still pick up breakfast and lunch at the following locations between 10 and 10:30 a.m. on Tuesday, Sept. 8, and Wednesday, Sept. 9 — at Austin, Canyon Ranch, Denton Creek, Town Center and Wilson Elementary. Distance learners may order weekly meal bundles for pick up. Pre-ordered meals for 5 days will be available for pick up on Wednesdays, starting Sept. 9, between 4 and 6 p.m. at Denton Creek Elementary. Read more at go.coppellisd.com/CurbMealsPickUp.
---
CMS North Yearbook 2020-2021
Visit: www.jostensyearbooks.com to place your order today or click
HERE
The CMSN Yearbook is now on sale! Purchase your yearbook NOW to ensure that you receive the lowest rate of the year. The yearbook price will increase, so don't delay!
Have questions? E-mail Kelly Strey: kstrey@coppellisd.com
NOTE: The Yearbook is NOT a part of the Cougar bundle that is ordered before school starts. This is a separate purchase made through and directly to Jostens.
---
Curriculum Night - September 21, 2020
We will host a virtual curriculum night on Monday, September 21st. You will have the opportunity to learn more about technology tools being used for remote and in-person learning, instructional expectations, accessing the educator when your child needs help, virtual tutoring hub, and office hours. We will send out information on how to access curriculum night next week.

---
Library Books fo Virtual Learners
The North Library is excited to get physical books into the hands of your virtual learners! First, learners will put the book(s) they want on hold through Destiny (gofollett.com). There is a maximum of two holds per learner. Then, when the book is ready for pick-up, we will send you an e-mail letting you know when to come get your book(s). Pickup times are on Thursdays from 11:00am - 12:00pm, beginning September 17th. To see a video tutorial on how to search our catalog and put books on hold, visit tinyurl.com/cmsnbooks20. Information is posted on the CMSN Library Schoology course, as well.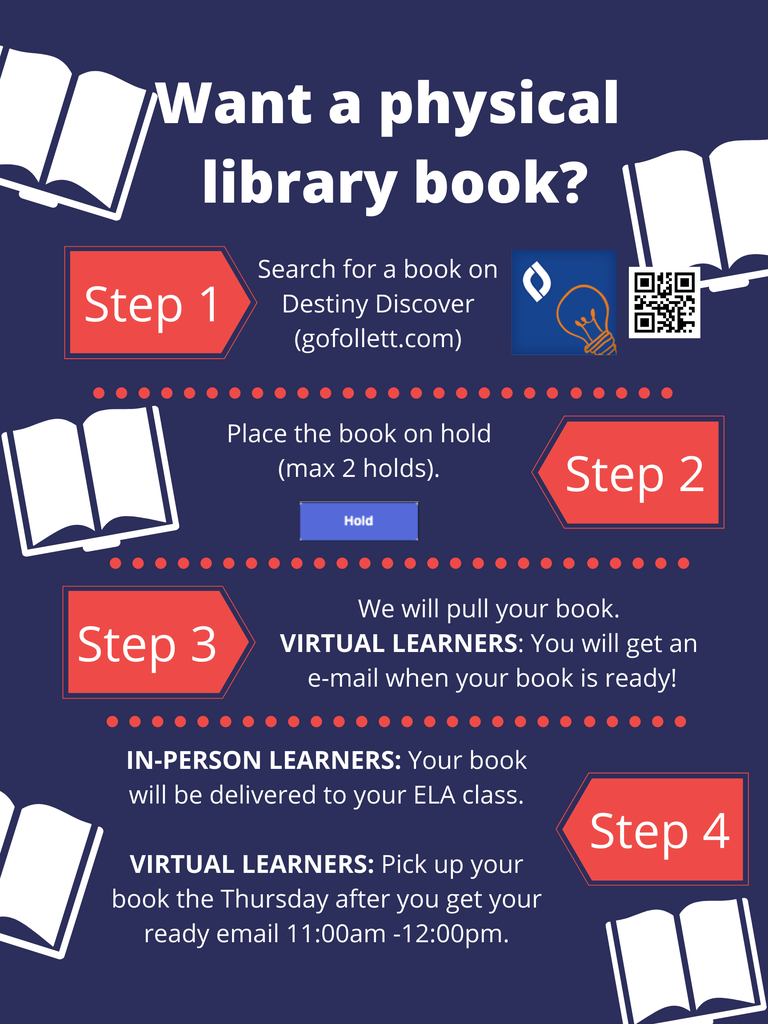 Thank you,
Lorie Squalls
Principal
Coppell Middle School North